LOVE, TRUTH, PEACE, FREEDOM AND JUSTICE
About
Prophet Confucius
originlly – Who is the Prophet Confucius?– Jul 18, 2016
Confucius is the latin version of the Chinese name Kung Fu Tz. He was also called Master Kong. Kung Fu Tz was born 2,550 years ago, 50 years before Buddha, 550 years before Jesus and 1,150 years before Mohammed. China's most revered Sage!, was born of an unwed teenage mother. He saw his people suffering and vowed to somehow destroy this oppression.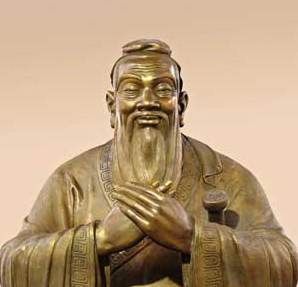 He did NOT submit to ANY Political Order. He wanted to REFORM it!, leaving his wife and children to fight for China's future. Challenging the rich and powerful to abandon their evil ways, he championed Love, Truth, Peace, Freedom and Justice throughout the Lands! He made his transition thinking he had failed.
Shu Yun Ho, his father was one of the most feared Warriors in China at the time, large, strong, and ugly-looking. At the end of his career, his Commander awarded him for his years of Military service by appointing Shu Governor of Cho, southeast of present day Beijing. Shu took a girl named Ching Chai as his concubine. She was 16, he was 70. Shu died 3 years after Confucius was born. Shu's family rejected Confucius and his mother never allowing them to attend Shu's funeral.
Threatened with starvation, they left Cho for the city of Chu Fu. Growing up there, his insatiable seeking of knowledge separated him from the other children. His mother recognized this and nurtured this part of him.
Other boys were into the Art of War. Confucius was into the Ancient Rituals of China. As a teenager, he studied Ancient Chinese civilization and strove to become a better Citizen, improving his own character.
When his mother made her transition, he buried his mother with his father. Years later, he stated "Noble DEEDS, and NOT Noble BIRTH makes the positive impressions in one's life". He knew that a family's LOVE was a greater gift than GOLD.
As an adult, he stood 9'6″ tall.
One of the ruling class of China was told about him. Subsequently, Confucius was sought and appointed to be the overseer of the Granaries, a very important and powerful position.. In Ancient China, Grain was used as money. He married at the age of 19. His wife's name is unknown but he had children by her.
By age 30, he was appointed a Divine Minister. Confucius realized that when people are educated, distinctions between classes of people disappear. Education, to him, was the meaning of life. People become better Citizens by being educated. He was NOT interested in the differences of someone who had money and someone who did NOT have money!
He taught that descendants of Emperors who have NO quality should be reduced to the ranks of the COMMON PEOPLE, and common people who HAVE quality, should be elevated to the ranks of the RULERS of the people.
He started a school accepting EVERY social class. No one before him in China had done such a thing. This is why even to this day, ALL of China regard him as the Greatest Teacher that ever existed!
The wealthiest and the poorest met as EQUALS in his school, forgetting their class differences and forging NEW bonds of Love, Truth, Peace, Freedom and Justice! He created an Aristocracy of Noble CHARACTER and NOT Noble BIRTH! He demanded of his students absolute Honesty and rigorous self-control and unyielding virtue.
A Superior one would think of what is RIGHT! An inferior one would think of what is PROFITABLE. A Superior one would demand much of him or herself, an inferior one would demand much of others. A Superior one accepts things he or she can NOT change. An inferior one is full of complaints.
He gained plenty of followers as time went along. But he wanted to implement his teachings to the Rulers of China, so he sought Political power. Year after year he sought Government appointments but was NEVER appointed a POLITICAL position, although he was given many Honors by the Chinese Rulers.
Then, the Ruling families of China were raging war amongst each other causing great death, suffering, and confusion. Duke Ding, a young Ruler, sought Confucius to become his Advisor in order to regain his family's dignity and Rulership. Confucius saw this as THE Opportunity to Reconstruct China so he accepted the Duke's offer!
Duke Ding made Confucius Governor of Lu giving him the power of putting his Principles into action! Some of his Principles was for men and women to walk on opposite sides of the streets and for poor young children and the elderly to be taken care of at the Government's expense. He was centuries ahead of his time!
Confucius was the one who stated "Do unto others as you would have them to do unto you" and "Give knowledge and education to the Common people instead of ignoring and subjugating them". "Family can be other than Blood". "Children can be other than your own sons & daughters". "Rotten wood is hard to carve". "Put your Country ahead of your Life". "Obstacles will be many, so maintain your Strength of Spirit".
He also said: "People obey the Law because they fear punishment. Respecting the Law because of being Civil and Honest and having Integrity and Dignity is much better. When Honorable and Credible people are given Office, corruption will disappear. People who care for their parents and children also care for others. Men should perform their duties while Women should be given a Home and a Family. Then the Orphans, Widows, the Old, the Sick, and the Weak would be taken care of. Then the people will live and work cheerfully. The Universal Order of Love, Truth, Peace, Freedom, and Justice in Harmony will Rule!"
When he influenced Lu, the streets were safe and crime disappeared. Merchants NO longer cheated their customers.
Fearing Confucius' power, the Ruling families united against him! They realized he was a dangerous Reformer that had to be stopped. They sent the most Beautiful Women to Duke Ding. Confucius' Reforming was soon forgotten!
Confucius was 54 years old when he was EXILED from Lu with his Disciples. He sought another Chinese Ruler who was worthy of his teachings to end the oppressions of the people.
The next 13 years, he traveled around Eastern China in search for a Ruler who would listen to him. He and his Disciples witnessed the abuses and molestations of the people from the Rulers.
His heart was in the people but his head was in the Rulers. He knew that ONLY the Nobility had the power to end the people's suffering.
Ruler after Ruler listened to Confucius only to then dismiss him. They would apply his Principles privately but NOT publicly.
Some Rulers wanted him dead. In these Lands, as he traveled, he had to disguise himself.
One time, he was invited by a Ruler who set Confucius and his Disciples up plotting to starve them to death. He was finally rescued by friendly troops.
The majority of the Ruling Elite did NOT threaten him. They just IGNORED him.
At 67 years of age, one of his Disciples, who had become an Official in Confucius' Home Province (Lu) influenced the Ruler of Lu to bring Confucius out of exile.
When he arrived in Chu Fu, he still hoped this Ruler would listen to him. The Ruling Warlords there asked him "How to find Honest Officials?" He replied, "Be Honest, Yourselves"!
The Rulers still did NOT offer him a Government position!
He realized his Great Vision of saving China would NEVER be fulfilled. He watched the Great and powerful plunder his country even further. He watched the Chinese people suffer even greater misery!
His disciples were his TRUE Family! 3,000 in ALL, but ONLY 72 Disciples were his DEVOTED followers!
Being content in poverty and Loving to learn was the best qualities Confucius saw and pointed out in his Chief Disciple, Yin Quay.
Yin Quay became ill and died at the age of 47. Confucius became depressed in his old age because of this. At the age of 73, Confucius makes his transition.