LOVE, TRUTH, PEACE, FREEDOM AND JUSTICE
originally: The Rise of the Matriarch – The Real Eve
The Rise of the Matriarch
There are a few codes of conduct and educational lessons that a Moabitess sister needs to know when it comes to living the Moorish way.
This involves the choice of language used in communication and expressing self, dressing attire, role of women in the movement, at home, in marriage, i.e. when obligated; when navigating through the public.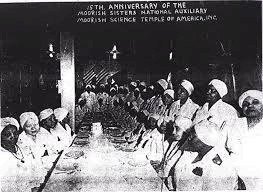 Pathways to being active like the Sisters Auxiliary, the welfare & health of the women and lessons for our Sisters, from the basics like wrapping and wearing the turban to the refined knowledge that the Moabitess Womb-man is the "REAL EVE"! – Mother of All man / mankind.  At the request and with the guidance of Sheikess G. Cherry-El  this information is being posted so that the melanated women, properly the Asiatic, Moslem, Moorish/Moabite women in North America will comprehend the importance of Ourstory, nationality, divine existence and the role of our women in our nation.